Image

University Real Estate Services
Established in 1997, the University Real Estate Services (URES) office is Penn State's representative for real estate services across the University, including all Commonwealth Campuses and various research locations.  
The office provides professional assistance to Penn State campuses, units, and colleges involved in on/off campus lease space selection and agreement creation, negotiation of acquisitions and sales of real property, handling of gift properties, property management, billing and collections administration, and retention and records management of legal documents.  
Processes are driven toward the pursuit of supporting the University's educational mission and values, including stewardship of its economic resources. Activities are a collaborative effort, with a multitude of stakeholders, toward ensuring adherence to University policy for all facilities, whether owned or leased. 
Leasing Representatives
Each Business Area and Commonwealth Campus has a designated Specialist for assistance with on/off campus lease agreements, identified as follows: 
Image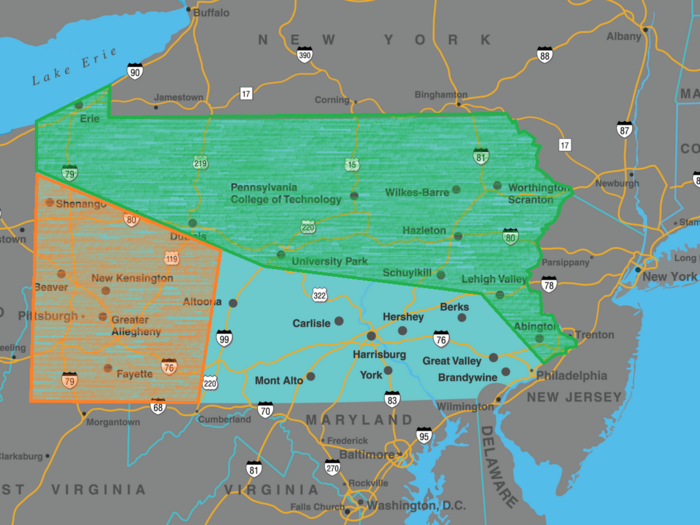 Leasing Representative - Sheri Lucas ([email protected])

| ID | Business Area/College |
| --- | --- |
| 1010 | Abington |
| 5420 | Arts & Architecture |
| 8530 | Dubois |
| 1640 | Earth & Mineral Sciences |
| 5400 | Eberly College of Science |
| 3860 | Engineering |
| 5080 | Erie, The Behrend College |
| 5860 | Hazleton |
| 8190 | Intercollegiate Athletics |
| 1200 | Lehigh Valley |
| 6750 | Office of Physical Plant |
| 7860 | Office of the President |
| 4390 | Schuylkill |
| 6510 | Scranton |
| 2970 | Smeal College of Business |
| 2950 | Undergrad Education |
| 7830 | VP Government & Community Relations |
| 7400 | VP Commonwealth Campuses |
| 6310 | VP Development & Alumni Relations |
| 8510 | Wilkes-Barre |
Leasing Representative - Mark Parseghian ([email protected])

| ID | Business Area/College |
| --- | --- |
| 2120 | Agricultural Sciences |
| 3230 | Altoona |
| 4310 | ARL |
| 7640 | Beaver |
|   | College of Medicine |
| 2750 | Education |
| 7420 | Dickinson Law |
| 7870 | Educational Equity |
| 6190 | Fayette |
| 1420 | Graduate School |
| 3460 | Greater Allegheny |
| 5060 | Human Resources |
| 7080 | Information Sciences & Technology |
| 2310 | Liberal Arts |
| 4530 | New Kensington |
| 1080 | Penn State Law |
| 6390 | Senior VP for Research |
| 7620 | Shenango |
| 8970 | University Outreach |
| 5280 | University Police |
| 3850 | WPSU-FM |
| 3840 | WPSU-TV |
Leasing Representative - Janean Goza Chandler ([email protected])

| ID | Business Area/College |
| --- | --- |
| 1860 | Brandywine |
| 2190 | School of International Affairs |
| 2530 | Great Valley |
| 2730 | York |
| 3060 | University Health Services |
| 3200 | Schreyers Honors College |
| 3420 | Mont Alto |
| 4170 | University Libraries |
| 4190 | Communications |
| 4750 | Harrisburg |
| 4950 | Campus Recreation |
| 5210 | Corporate Controller |
| 5640 | Nursing |
| 6530 | A&BS (Airport) |
| 6530 | A&BS (Bryce Jordan Center) |
| 6970 | Health & Human Development |
| 7200 | Central F&B |
| 8310 | Penn State Global |
| 8730 | Strategic Communications |
| 8750 | Berks |
| 1840 | VP Student Affairs |