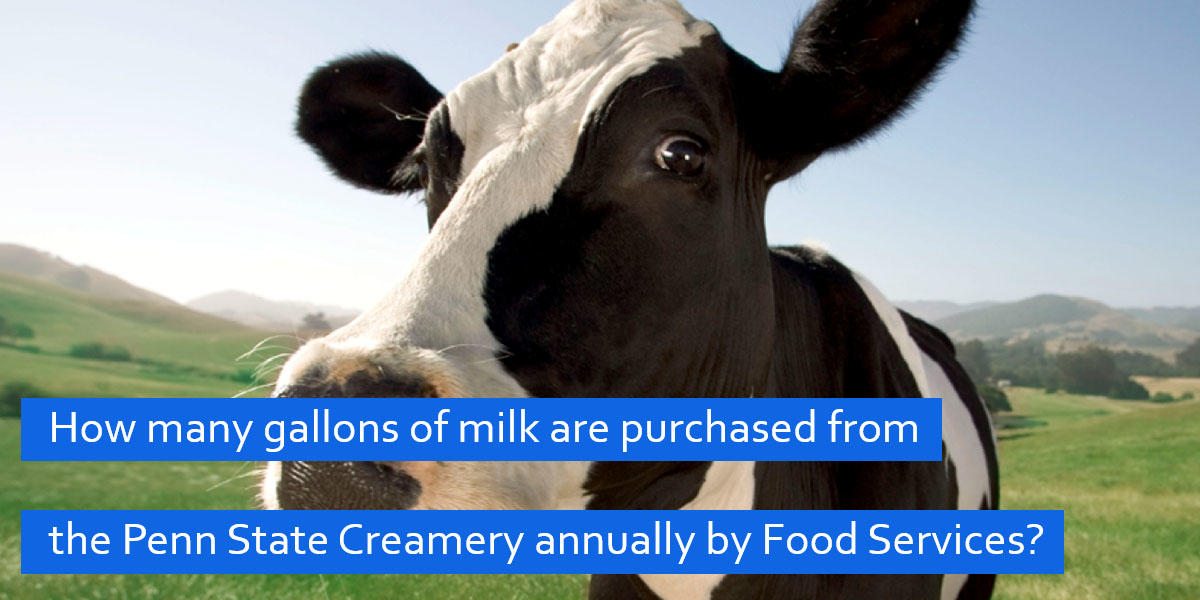 Finance and Business Fun Facts
Transportation fleet vehicles were driven 5.6 million miles during the 2014-15 fiscal year.
13,500 cups of coffee are brewed at Starbucks at the HUB a month.
Penn State Dubois first operated in a former elementary school, the Hubert Street School.
Penn State Brandywine is the youngest Penn State campus.
Office of Physical Plant (OPP) stewards more than 20,000 acres of land.
Over 215,000 gallons of milk are purchased from the Penn State Creamery annually by H&FS.
More than 1,550,000 gallons of Jet A fuel are pumped annually at University Park Airport.
90,000 dozen cookies are baked at the Penn State Bakery a year.
id+ cards are swiped approximately 215,000 times for the Campus Meal Plan
University Police and Public Safety handles an average of 2,215 calls for service/month, that's about 74 calls for service each day.
Penn State receives an average of 3.9 million legitimate email messages, while blocking 115 million spam messages, daily.
Residential Dining serves 1.4 million meals per semester.
Over 13.5 million people have visited the Bryce Jordan Center. That's more than the population of New York and Los Angeles combined.
The Worthington Scranton campus is named in memory of Worthington Scranton, Founder of the city of Scranton.
Enterprise Project Management is the newest office in F&B, created March 2013.
The Office of Ethics and Compliance is responsible for Athletics Compliance,
Athletics Integrity, Export Control, Privacy, University Ethics, Youth Programs Compliance, and the University Hotline.
Over 90% of the paper used at Multimedia and Print Center has recycled content.
The Office of Investment Management has 200 plus investment funds.
Prior to 1986 the Office of Human Resources was known as the Office of Personnel Administration (OPA).
Licensing Programs reviews on average more than 13,000 pieces of artwork annually.
Penn State New Kensington has a replica of an operating room and emergency room on its campus.
Noted architect John Russell Pope designed Penn State Hazleton's Markle Mansion in 1924. To guard against Forest fires, he came up with a new construction technique: poured concrete Walls overlaid with fieldstone.
Garage Services has the ability to provide maintenance for all of the University's 2,200 vehicles and machines.
Between 2007-2010 nearly 30,000 perennial were planted.  Since then, OPP has also planted 115,000 bulbs, 36,000 spring flowers, and 75,000 annuals.
Human Resources Records Management processes over 2,500 personnel documents per month.
The Bursar's Office collected nearly $2.5 billion in tuition, room & board and student fees last year and had the second lowest Perkins Loan cohort default rate (1.1%) in the BigTen.
Financial Reporting and Cost analysis coordinate government audits conducted by 5 DCAA auditors on-site at University Park year round as well as ongoing inquiries from the Office of Naval Research and other Federal sponsors.
H&FS Warehouse recycles approximately 12,000 pallets annually, which generates approximately $12,000 in new revenue.
The famous aviatrix, Amelia Earhart, walked the sidewalks of the Penn State Abington campus nearly 75 years ago.
Twenty years ago, OPP started replacing (planting) at least one tree for every one lost and have since nearly tripled that ratio and have planted close to 8,500 trees.
Residential students at the Commonwealth Campuses represent about 60 countries all over the world.
The south side of the Penn State Beaver Campus was an ice farm through the 1920's.
The University receives an average of 7,000 pieces of mail daily.
OPP maintains 35 miles of roads and 77 miles of sidewalks.