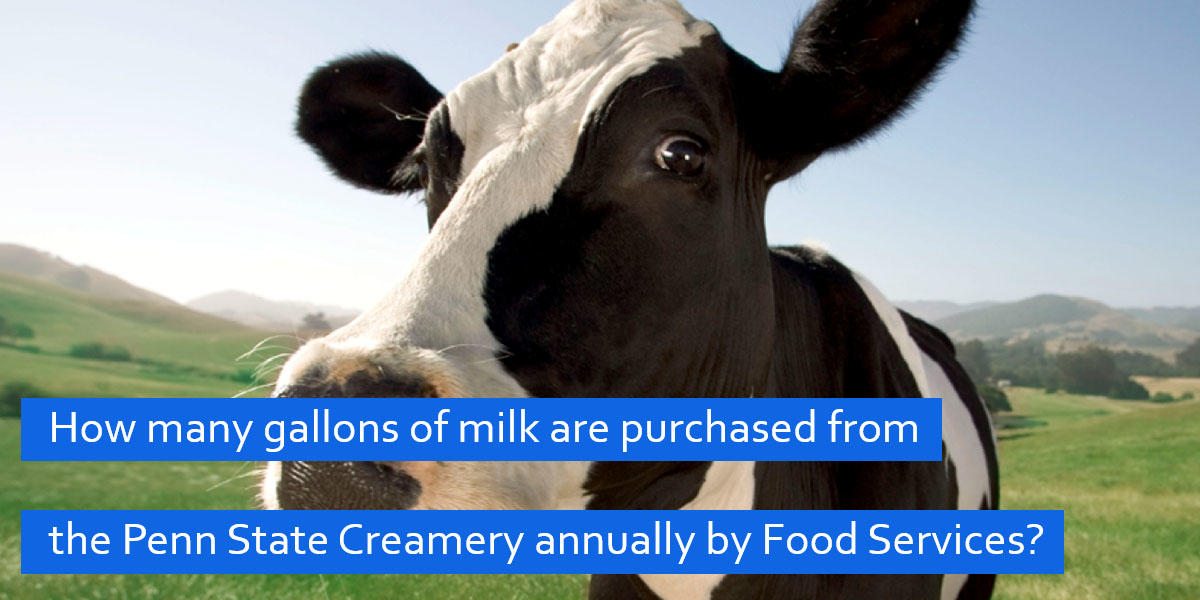 Finance and Business Fun Facts
Transportation fleet vehicles were driven 5.1 million miles during the 2016-17 fiscal year.
10,472 parking permits were sold to students during the 2016-17 fiscal year.
Over the last 10 years, Internal Audit with a departmental full-time staff of 12, has hired 21 Penn State student interns.
17,300 espresso drinks are made at the HUB Starbucks per month. 
23,450 smoothies are made at the HUB Jamba Juice per month. 
Over 132,000 gallons of milk are purchased from the Penn State Creamery annually by food Services.
Penn State DuBois first operated in a former elementary school, the Hubert Street School.
More than 1.47 million gallons of Jet A fuel are pumped annually at University Park Airport.
Penn State Bradywine opened in 1967. It is the youngest Penn State Campus.
90,000 dozen cookies are baked at the Penn State Bakery a year. 
Risk Management reviewed over 5,000 contracts in 2017.
id+ cards are swiped approximately 215,000 times for the Campus Meal Plan. 
Office of Physical Plan (OPP) stewards more than 20,000 acres of land.
Campus Dining serves 1.4 million meals per semester and approximately $85 million in sales per a year.
University Police and Publicly Safety handles an average of 2,392 calls for service per month, that's about 79 calls for service a day.
Human Resources' Records Management processes over 2,500 personnel documents per month.
Over 15 million people have visited the Bryce Jordan Center. That's more than the population of New York and Los Angeles combined. 
2016 was Penn State Harrisburg's 50th Anniversary. The opening of the Student Enrichment Center marked the event.
Last year the Nittany Lion Inn hosted 89,287 guests and served 290,000 meals.
Penn State receives an average of 4 million legitimate email messages, while blocking more than 10 million spam and phishing emails, daily.
283,237 packages were processed for students during last year at the residence hall commons desks.
The Scranton campus is named in memory of Worthington Scranton, founder of the city of Scranton.
Last year, HUB Dining served: 145,400 Chick-fil-A chicken sandwiches, 73,300 slices of Sbarro pizza and 56,700 Burger King Whoppers. 
Garage Services can provide maintenance for all the University's 2,200 vehicles and machines.
H&FS Warehouse recycles approximately 12,000 pallets annually which generates approximately $12,000 in new revenue. 
Prior to 1986, Penn State's Human Resources was known as the Office of Personnel Administration (OPA).
In 2017, University Park produced 20,176 tons of solid waste, but 62% of it was diverged from landfill. 4,620 tons was recycled and 7859 tons of organic material was manufactured into compost or mulch.
Zagster Bike Share had 1,200 users and over 17,000 bike rides last year.
OPP maintains 54 miles of roads and 85 miles of sidewalks.
Over 90% of the paper used at the Multimedia and Print Center has recycled content.
Twenty years ago, OPP started replacing (planting) at least one tree for every one lost and have since nearly tripled that ratio and have planed close to 10,000 trees.
Penn State New Kensington has a replica of an operating room and emergency room on its campus.
Penn State IT responded to 165,170 customer requests over the 2016-17 fiscal year.
The south side of the Penn State Beaver Campus was an ice farm through the 1920's.
Between 2007-2010 nearly 30,000 perennials were planted. Since then, OPP has also planted 67,600 bulbs, 21,400 spring flowers and 41,600 annuals.
Residential students at the Commonwealth Campuses represent about 60 countries all over the world. 
(Updated 6/2020)